Readers of the touchline are quite familiar with our advocacy of using social media for soccer tournaments. I love the electric energy that comes with our events pushing the social media envelope, and @NASABuckeyeCup and @StrawberrySoccr are killing it!
Buckeye Cup
Along with updating scores on twitter as they were updated on the website, the Buckeye Cup also promoted their vendors on site. Take a minute to scroll through their twitter timeline, but the coolest thing I woke up to on Sunday morning was a pancake vendor. A pancake vendor!
All you can "catch" pancakes for only $5! You've never seen anything like this…flying pancakes! pic.twitter.com/06A9oCfVaM

— NASA News (@NASABuckeyeCup) May 4, 2014

The Buckeye Cup also linked its twitter account to its Facebook page so updates to twitter were also posted there, giving participants a choice on how to follow the real-time action.
Strawberry Soccer Invitational
I have to admit, when I first saw this technique, I was very impressed at the ingenuity. The hack was so clever that I had to go poking around to see how Dave pulled this off. We'll probably even build in support for the javascript so it doesn't have to load for each post.
When the Strawberry posts a Facebook post, they grab the code to share it and post as a news story on their front page. That way, they can share the photos and post in many venues and they cycle in and out based on the dates of the news story.
Here is what a sample looks like on the front page. You can check out the entire front page on the Strawberry Soccer website.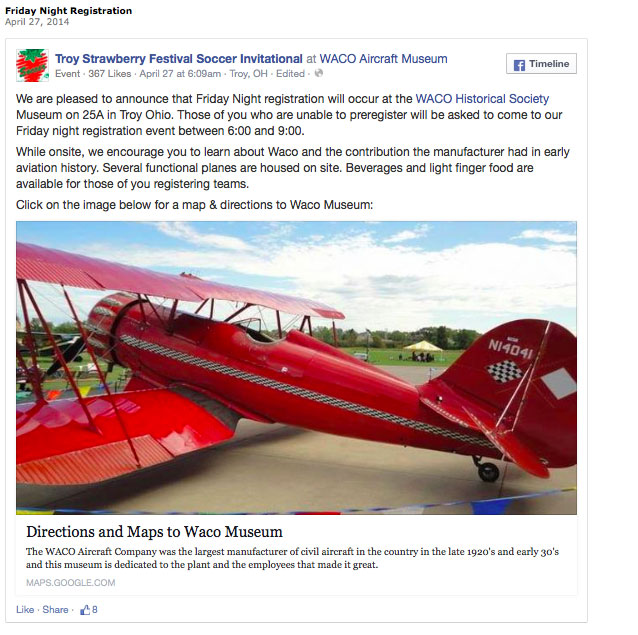 These are just some social media examples for soccer tournaments that we hope will spark your imagination. We can't wait to be surprised by what else you will do with your event.