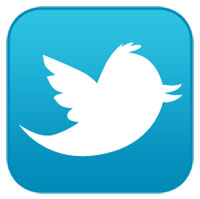 Twitter is a service that you can use to fire out quick updates or messages to your followers. This makes it a great tool for youth soccer tournaments and tournament directors because they can immediately announce game scores, special promotions or upcoming events on their smart phones, computers or via text messaging.
Here's how to set up your Twitter soccer tournament account:

1. Go to twitter.com and push the "Sign Up" Button
2. Set up a Twitter user name using 20 characters max that reflects your tournament name. Don't select these under an individual's name. You will also have to select a password. You will need an email account that has not been used for another Twitter account, so if you have your own personal Twitter account, you may want to sign up for a Gmail account first.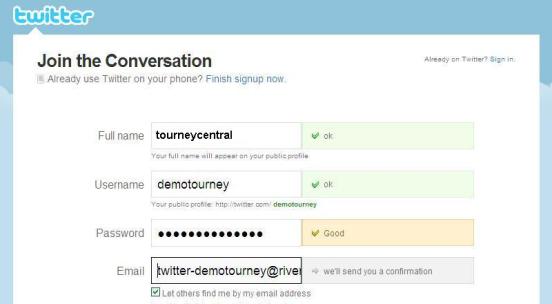 3. Select other twitter accounts that you would like to follow. These could be other soccer or tournament related accounts. By following others, others will follow you.
4. With your first tweet, tell the world about your event in 140 characters or less.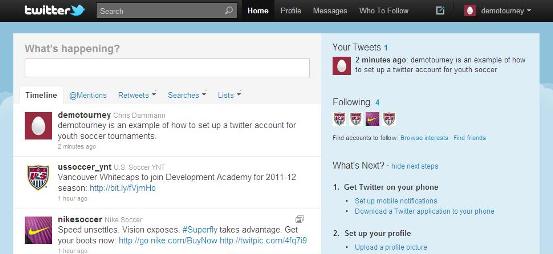 5. Set up your profile. Here you will upload your tournament logo in a 200px x200px jpg format. You will also provide a name, location, website and a brief bio.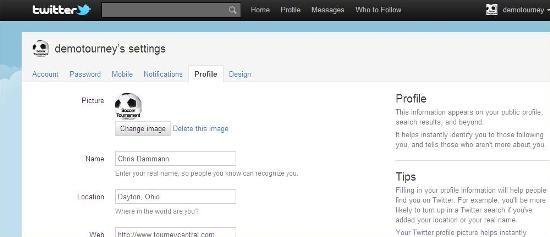 6. In the design step, you can customize the way Twitter looks for you and how your profile looks to others. Start with a pre-designed theme — and then, optionally, customize it with your own color scheme and background image.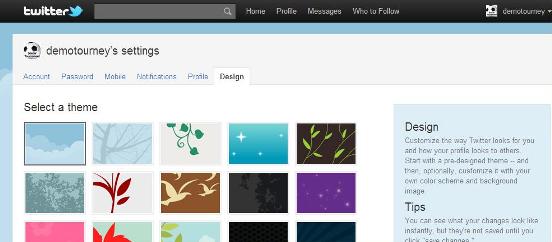 7. Fill in your Twitter account in your Web Maintenance>Site Variables set up on your TourneyCentral website. Your Twitter badge will then display on the left rail so teams and their fans can follow you easily.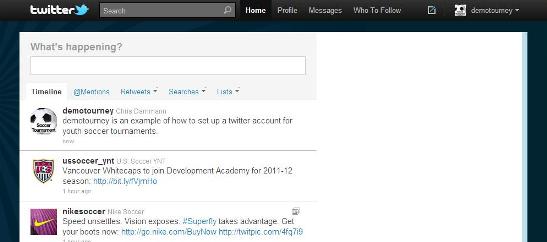 Our Advice: Use Twitter to Tweet updates before, during and after your event. Any time you post new content on your website, send a quick Tweet out along with a link back to your website.
Your TourneyCentral website is integrated with Twitter. When you update scores, you can send that update notice to your Twitter account. You can also fill in a Twitter account for your advertisers so that a Twitter button appears in their DEALS listing.
Send updates to Twitter during the event, such as sponsor coupons, reminders of lunch specials at concessions, lost and found, etc. Here is an example of what a soccer tournament Twitter account can look like.
This is the third in a five-part series on Social Media for Soccer Tournaments. Next up: Setting up YouTube and Flickr accounts.