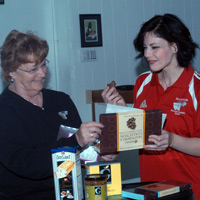 DAYTON – Market Day is known best for fundraising in schools, but this year, it is branching out into soccer tournaments and clubs. The Warrior Soccer Classic is the first soccer tournament to feature the soccer-specific fund-raiser.
"We met at the US Youth Soccer Convention in Pittsburgh," says Carol Maas, co-director for the Classic. "It was an instant marriage of common interest and goals." Mass added that Market Day was a good match for the 24,000 plus participants of the annual soccer tournament.
According to Kristine Holtz, 40, president and CEO for Market Day, the fundraising organization was founded in the early 1970s by Trudy Temple in response to her daughter's request for a cake for the school bake sale. Instead, Temple brought cases of fresh produce and soon found herself being asked to do the same for more schools.
"The soccer tournament fund-raising concept is just an extension of what Market Day already does well," Holtz added. "We're excited to partner with the Classic to introduce the concept to soccer."
The Warrior Soccer Classic is held every year over Memorial Day Weekend in Dayton, Oh. at Thomas Cloud Park, Oakwood Old River, Ankeney Complex and the Vandalia Soccer Fields. The Classic is hosting over 525 teams in forty-three divisions; boys, girls and amateur men and women, under 8-19. Nine hundred nine games will be played over the three-day weekend.
For more information on the Warrior Classic or Market Day, visit the tournament Web site at www.warriorclassic.com.
PHOTO: Maas demonstrates the Market Day product line available to teams during the Warrior Classic.