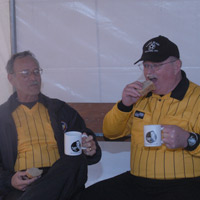 FAIRFIELD – It is rare that a soccer referee gets everyone to agree on a call, but when it comes to Steve Frechling's banana bread, the opinions are unanimous. This bread is good.
Frechling started baking banana bread about 11 years ago when he suddenly found a lot a time on his hands after his son finished playing travel hockey. He had a steady supply of bananas from his employer, time and a desire to try something new. A menu of banana breads that include such flavors as white chocolate, chocolate chip, peanut butter, walnut and plain banana was born. He started to bring the extra loaves to the referee tents and quickly found himself a fan following.
"This has grown into a small cottage industry," Frechling says. "Referees seem to like it and now expect it at soccer tournament where I referee."
In addition to refereeing league games and tournaments, Frechling also assigns referees for the MASC, PRF and helps out with other tournaments across southwestern Ohio. This weekend and next, he and his banana bread will be at the referee tents in ample supply at the MASC tournament, in Fairfield, Oh.
For complete information at this year's MASC, please visit the Web site at www.masctournament.com
PHOTO: Harry Bourne and Dan Craycraft, both referees at the 2008 MASC soccer tournament, take a moment between games to chat and enjoy Frechling's banana bread with coffee.