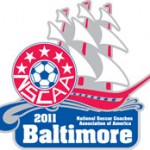 Good morning, Baltimore is what we'll be saying early Thursday morning as we roll into town from Dayton, Ohio! We're off to the NSCAA Convention.
We'll be sharing a booth with Annalisa and Alison from Premier Athletic Advertising and Carlo from Traveling Teams in booth 1527.
Stop by and say hi during the Thursday evening event and then come back after 9:00pm for a special treat you can only get in Baltimore.
Watch this spot for photos, videos and stories from the 2011 NSCAA Convention.