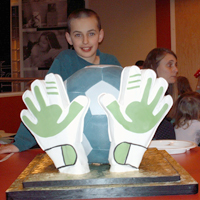 BALTIMORE – Pass by the TourneyCentral booth at the 2008 National Soccer Coaches Association of America (NSCAA) convention and you would most likely do a double take at the huge soccer ball cake on display.
"The conference was in Baltimore this year," says Gerard McLean, president of Rivershark, Inc., the parent company of TourneyCentral.com. "We're such huge fans of the show 'Ace of Cakes' that is was a no-brainer to get a cake." The cake was made by the 'Ace' bakers of Charm City Cakes, based in Baltimore, Md. Duff Goldman and his crew are the stars of the Food Network's popular show, 'The Ace of Cakes.'
McLean added that he usually tries to bring local flavor to his booth by supporting local businesses at the NSCAA. In addition to purchasing a cake from Charm City Cakes, McLean raffled off the cake, with the hope that the winner would donate the cake. The winner of the cake, Mark Serdjenian, the head coach of the men's soccer program at Colby College in Maine, did not disappoint. The cake was donated in Serdjenian's name to the Ronald McDonald House of Baltimore.
"The Ronald McDonald House children thoroughly enjoyed the delicious cake," said Joshua Harden, manager of volunteer services at the house.
In addition, two local soccer tournaments, the Mead Cup and the Warrior Classic also exhibited at the NSCAA. For more information about the NSCAA show, including a photo gallery of the soccer cake, visit www.tourneycentral.com/nscaa.
PHOTO (contributed) A Ronald McDonald resident savors the cake with a plate ready for his slice.