If you are like me, you're probably getting a bit tired of hearing from or about Charlie Sheen. But hear me out on this one little thing. I promise, there is a good take-away.
Last night, Charlie decided he was going to take his message directly to the people with a live show streamed onto the Internet. You can watch it if you have an hour to kill. I've included a screen shot below to illustrate everything that was wrong with the show.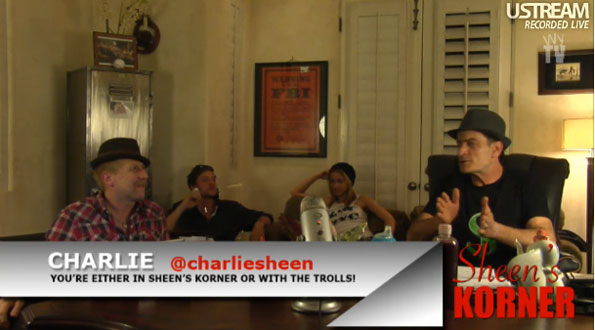 The lighting was bad. The sound bounced hard all over the room. Nobody was mic-ed. The cameras were positioned too low, Charlie did not get proper cues on which camera was live so he was frequently looking into the wrong one. The background was busy. The titles at the bottom covered the action. There were too many "branding" phrases thrown out. I could go on and on. There were a lot of things wrong with the show technically as well as contextually.
There is a reason there is a long list of people who get credit at the end of TV shows. I'm not taking anything away from Charlie Sheen's talent and he brings a lot to shows like Two and a Half Men and Spin City. But when celebrities begin to think that they alone are responsible for their own fame and attempt to produce their own content, the public quickly finds out how very wrong they are.
Our Advice: Your tournament is run by a team, not just the tournament director. Your event may very well have a talented, dedicated leader and a team that is willing to give them all the credit. That is a good thing. But once the tournament director starts believing his/her own press, your event is headed for trouble.
You could argue that Charlie's show was "real" and "genuine" or that your tournament is "fun" and "like family." You would be wrong. What you see as fun, loose and 'like being with family,' your paying teams see as messy, unorganized and apathetic. It takes a lot of work (and acting skill) to appear nonchalant. The character of Charlie Harper (Two and a Half Men) can pull it off. Charlie Sheen? Not so much.
Recognize and appreciate your team and their skills in their specialized area, from your sales team to your scheduling team to your website crew. Never think yourself bigger than the sum of them.
They made you great. Never underestimate their power to unmake you. Or — just like Charlie Sheen is doing before our eyes — you unmaking yourself.