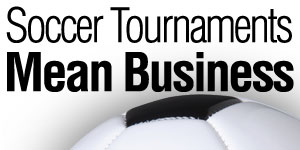 There will be a special place in heaven for youth soccer tournament directors. These largely volunteer people give countless hours of their free time to help raise funds for their club and give kids a chance to play competitive soccer. They have to convince teams to play, armies of volunteers to work and sponsors to participate. There is no doubt that, at least on some level, tournament directors love the game of soccer.
But running a successful tournament needs more than just enthusiasm and "want to". It requires the ability to remove yourself from the emotions and personalities and make real business decisions. Teams that sign up to play and the fans that follow them are real customers. Sponsors that support your event, even the ones who do it for good will purposes, are real business partners.
Our Advice: It's time to realize that you are not in the Soccer Business. You are in the Event Management Business that happens to feature a youth soccer tournament. Highly successful events take a good hard look at every aspect of their event and make educated business decisions on what they should do, and what they should not. Those who leave things to chance, well, they leave things to chance. Being a volunteer does not mean you have to be an amateur.