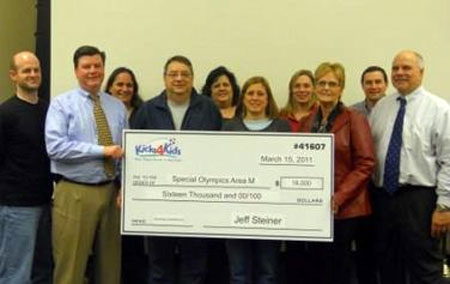 The photograph above was taken at the Hershey Soccer Club meeting on Tuesday, March 15, 2011.
This donation was a result of the 2010 Hershey Invitational Charity Soccer Tournament played on June 19-20, 2010. The tournament raised $16,000 for the Special Olympics Area M and also $16,000 for the Hole in the Wall Gang Camps. The Hershey Invitational is organized and run by Kicks 4 Kids Charity Soccer Tournaments. To date, Kicks 4 Kids has raised $177,618 for organizations that serve disadvantaged youth.
The 2011 Hershey Invitational will be played on the weekend of June 18-19, and will benefit the Special Olympics Area M and Ronald McDonald House of Hershey. The tournament is expected to host 230 teams from Pennsylvania, New Jersey, New York, Connecticut, Maryland, Delaware and Virginia.