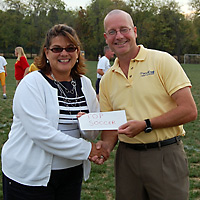 CENTERVILLE – TOPSoccer (The Outreach Program for Soccer) is $1,500 richer this year thanks to the success of the annual Mead Cup Soccer Tournament, hosted by the CUSA Soccer Club each Labor Day Weekend at sites throughout the Dayton area. At the conclusion of the tournament, the Mead Cup presented a check to the local TOPSoccer program.
"We've enjoyed a partnership with TOPSoccer for years," says Dan Monahan, Mead Cup tournament director. "It is rewarding experience for both the CUSA Courage players and the TOPSoccer athletes."
According to Monahan, the Mead Cup Soccer Tournament is considered one of the largest and most competitive youth tournament in the country, drawing teams from fourteen states and Canada. This year, the Mead Cup hosted 450 teams between the ages of U8 through U14.
TOPSoccer is a national program created to train young soccer athletes five through fourteen years-old with disabilities, within a coaching environment. Organizations like the Mead Cup, US Youth Soccer and local volunteers make the program possible in areas like Centerville.
For more information about the Mead Cup Soccer tournament or TOPSoccer visit the web sites at www.meadcupsoccer.com and www.usyouthsoccer.org.
Photo (contributed) Dan Monahan, tournament director for the Mead Cup Soccer Tournament, presents a check to Sherry King with TOPSoccer.