A picture is worth a thousand words. That statement is at the core of what Instagram is. Instagram is one of the quickest ways to share a photo or moment across multiple social media platforms.
It's easy too. For the most part you take a picture, add a caption, then share.
this guide will step your through using Instagram for soccer tournaments. Currently Instagram can only be setup through your mobile device, which is ok because you use your photo to upload photos into your profile.
Step one: Download Instagram to your phone from either iTunes or Android store
Step two: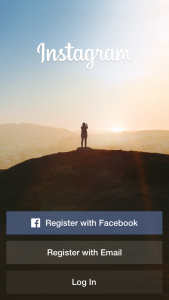 Here is where you have a choice. You have the option of signing up with your tournament's Facebook page, or with email. (I suggest using a tournament gmail.com that you have set up instead of clicking the sign up with Facebook button. It is easier to know where your gmail is reaching out to and how things are connected instead of using a secondary social media tool to connect to a third-party app.)
Step three: Enter a user name and password. I would suggest using the same handle as your Twitter account to keep a sense of continuity throughout your social media presence. (If you chose sign up with Facebook account, this is where you will enter you Facebook user name and password.) When you press next, it will ask for your full name and mobile number, both of which are optional. These might make sense for a single person wanting all of their friends to find them according to their phone number, but it really doesn't make sense for a tournament.
Step four: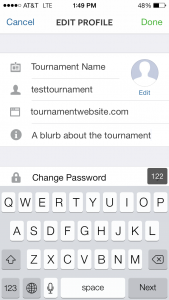 Editing your profile. This is a standard short profile. I suggest using the same content from your Twitter profile for Instagram. Once you have finished your profile, you are almost ready for some awesome Instagramming.
Last step: Here is where Instagram becomes important. It can post to your Twitter and Facebook automatically. In your Settings > Share Settings you will find the ability to link to Facebook and Twitter. Just click on each and it directs you to a page that will ask you to connect the two services. Click ok and every time you take an image, you will be able to click on which services you would like to share the image with. The image also saves to your mobile device.
Instagram is really that simple. There are a few key things to remember about sharing photos on Instagram:
Always use a caption to describe what is happening. You aren't there to be "artsy", you are there to build content and experience about your tournament.
Hashtags are important. They are the easiest way for people searching topics to find your photos. #soccer #soccertournament and #yourtournamentname are always good hashtags. If you are featuring your sponsor, you may want to use #sponsorname as well. Try to limit the number of #hashtags to two.
You can have more than one person in the organization signed into to your account at a time, but remember the internet moves very quickly. Always know that you can trust the people connected to your social media accounts. Make sure they verify the accounts they are connected to before sharing content.
What to photograph
Moments. Any moment can make a great photograph. A coach thinking about the next play. A player eating pizza at your registration. A volunteer helping a coach. A referee assignor assigning games. Your scheduler updating scores.
When choosing what the photograph, try to capture the spirit of your event. Showing people having fun doing the most mundane things can give your event a sense of whimsy. Or, if your event is more competitive, show the struggle of putting together the perfect schedule, the perfect event.
Don't forget your sponsors. If you have sponsors at the field, make sure you take lots of photos with their logo shown in the background. Encourage your guest or host teams to photograph themselves at the sponsors place of business. It may be a small gesture, but your eagerness to capture them in your official "record" of photos could mean the difference between a "yes" or a "no" for a sponsorship next year.
Be creative and have fun with photos. But also have a policy and release for kids, especially those under 13. Know the laws and err on the side of caution*.
*This is not legal advice. You should consult your legal counsel.