Instagram has added a feature to their platform that has the potential of getting bigger, so we'll cover it as a separate topic — Instagram Stories.
Instagram Stories is a short (10 sec) video clip that you can add to your account that disappears after a day, much like stories in Snapchat. You can decide to do just Instagram or just Snapchat… or both, but whatever you decide to do, make sure you feed your audience on both channels. If you do both, it may be tempting to record on Snapchat, save and then republish on Instagram, but you really should resist and create content unique to each channel for the widest audience engagement.
Regardless of what you do, save the video before you post it. You will want to create a reel of your social media efforts for your committee, board, sponsors or yourself and it always helps to save before posting.
Getting started
To get started using Instagram Stories, just log into your Instagram account.
1. At the very top of the home screen, you will see a camera icon (or a +) Press that and it turns into a standard recording screen.


2. Hold down the white record button at the bottom of the screen while you are recording your video. Release it when you are done.


3. Add text at the top and doodles as you'd like using the marker and/or text at the upper right (not necessary, but you can experiment as you get more comfortable with Instagram Stories)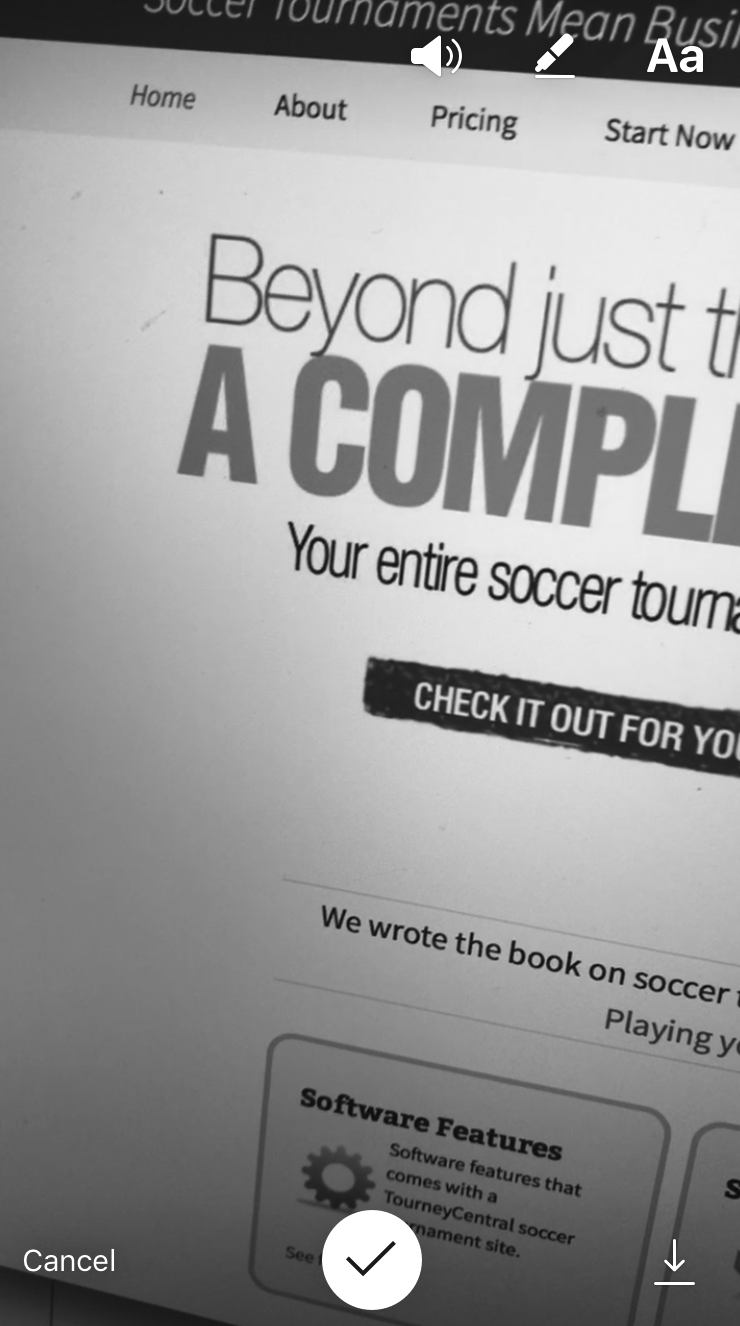 4. Save your story to your phone now just in case things go wrong, like you get disconnected or Instagram fails to upload, by clicking on the download icon in the lower right.
5. Send your video to Instagram Stories by clicking on the Record button that now contains a check mark. If you change your mind or wish to re-record, you can always cancel.


6. You can also add photos to your Instagram Stories by just tapping on the Record button once, like you would take a regular Instagram or Snapchat. However, Instagram Stories is turning into more of a short video story tool and the photos are less effective in holding attention. Viewers can see your standard feed for photos.
7. Be sure to also add to your Instagram feed in addition to Instagram Stories. Because Stories go away after a day, you want to have something a bit more permanent. By swiping up on the record screen, you can include any photo or video you recorded on your phone during the past 24 hours. However, people really like seeing original, in-the- moment video so you may want to avoid doing that too much.
What to storify
The key to a good Instagram Story line is to tell a story, not just post up random or sequential videos because you can. That is what you may want to use your regular Instagram feed for.
Have a beginning, middle and an end, even as you may want to tell the story acrosss multiple 10-second clips. Many users string together several recordings to tell a complete story. Always be aware, however, that your videos will drop off at the end of a 24-hour period, so make sure your story still makes sense if the first or second video in a series is no longer available.
If you want to create a multi-video story, it is best to script and set up as much as possible beforehand, so that when you shoot the videos, they are so close in time that they drop off pretty much on the 24-hour expiration.
Have fun and experiment.
And shoot vertical, even though you can shoot horizontal.