You have a choice to display photos or sponsor logos and links on the far right box of your front page. If you do not have photos uploaded into your Media Management Module, the choice to display photos will not be available.
If you wish to display a static shirt design graphic, select "Display Graphic" and this will override both Photos and Sponsor Ads for your front page. To see which graphic is installed, roll over the "Display Graphic" and the design uploaded will pop over.
To change the shirt design, select Upload Shirt Design from the Action Menu in the Website Maint Module.
The toggle to display photos, sponsor ads or the shirt design in in the Website Maint Module>Variables>GO!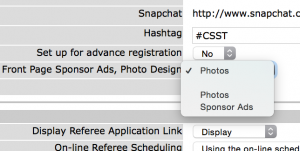 Uploading Photos
If you wish to display photos on your front page, you should upload them BEFORE you attempt to toggle the choice.
1. Select 'Front Page Photos' from the drop down menu in the Media Management Module.
2. Click on 'Go'.
3. Click on 'Choose File'. *note that only .jpg files smaller than 300k will upload.
4. Add a caption in the 'caption' box.
5. Click 'upload'
NOTE: You have the option to display larger photos, but you will lose the center NEWS headlines. A sample of the front page is below. If you wish to display larger photos, please contact TourneyCentral through your Help Module and we will toggle your GLOBAL VARIABLES.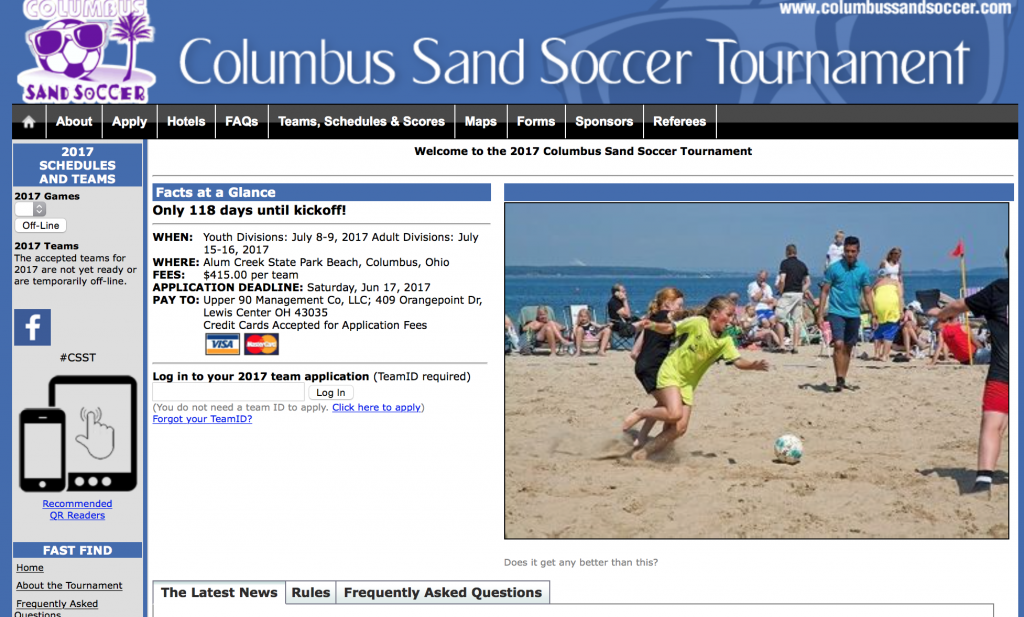 Embedding:
You may also wish to consider embedding content from your social media feeds and leave the sponsor logo rotation in the media box on your front page. Embedding content from your social platforms gives you the flexibility to include richer graphics on your front page AND keep your sponsors on the front page.